Two Computers - One Mouse
Do you have two computers on your desk and want to use just one mouse and keyboard to control both PCs?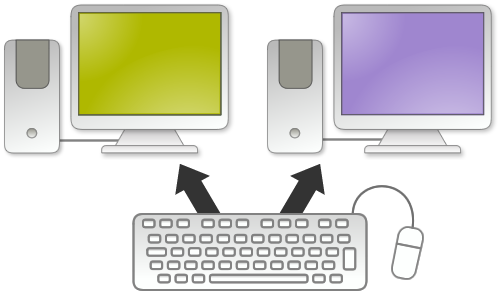 ShareMouse is a software program for Windows and Mac that allows you to share one mouse and keyboard with up to nine Windows and/or Mac PCs.
Easy Operation
ShareMouse links your mouse and keyboard of all computers by using your existing network connection. You can move your mouse cursor to any monitor of any PC seamlessly.
Just move the mouse cursor to the computer you wish to control. There is no manual switch to toggle or button to switch computers:
No extra hardware required
ShareMouse is software only and saves you from buying expensive hardware.
There is also no need for any clumsy cabling on your desk.
Up and running within a minute
ShareMouse takes less than a minute to get you started:
Run ShareMouse on all your computers that you want to share a mouse and keyboard.
Move the mouse to the computer you wish to control.
Any keyboard input will be interpreted by the PC where you put the mouse cursor.
That's all. No Reboot required.