This is new in ShareMouse v6
This was new in ShareMouse v5
Hardware Dimming
Saving you money and time
ShareMouse v5 optionally dims unused displays with hardware functions, increasing the runtime of your laptop as bright displays are the biggest battery drainer. So, ShareMouse cuts down your electricity bill and the battery will provide you with more run time.
Drag & Drop of formatted text
You can now drag & drop formatted text or bitmaps directly from and into an application on a Mac or Windows PC. This works totally seamlessly and intuitively in both directions.
Additional switching options
You can now select all programs where where you do not want the mouse to switch monitors.
Network Adapter Selection
You can now select a specific network adapter used by ShareMouse, allowing you to choose the fastest option in your network environment.
User Guide
The user interface now provides settings-aware tips and troubleshooting suggestions to help you getting the most out of ShareMouse.
Automatic Layout switching
ShareMouse automatically recognizes if a computer is used in different work place setups and automatically switches between varying display topologies. Each display detected layout can now be named for easier identification.
What was new in ShareMouse v4
We have invested several developer man-years more to take ShareMouse to a new level.
A whole new Synergy
ShareMouse now syncs "everything"
You can now synchronize lock/unlock/suspend/shutdown and screen savers on multiple PCs and Macs: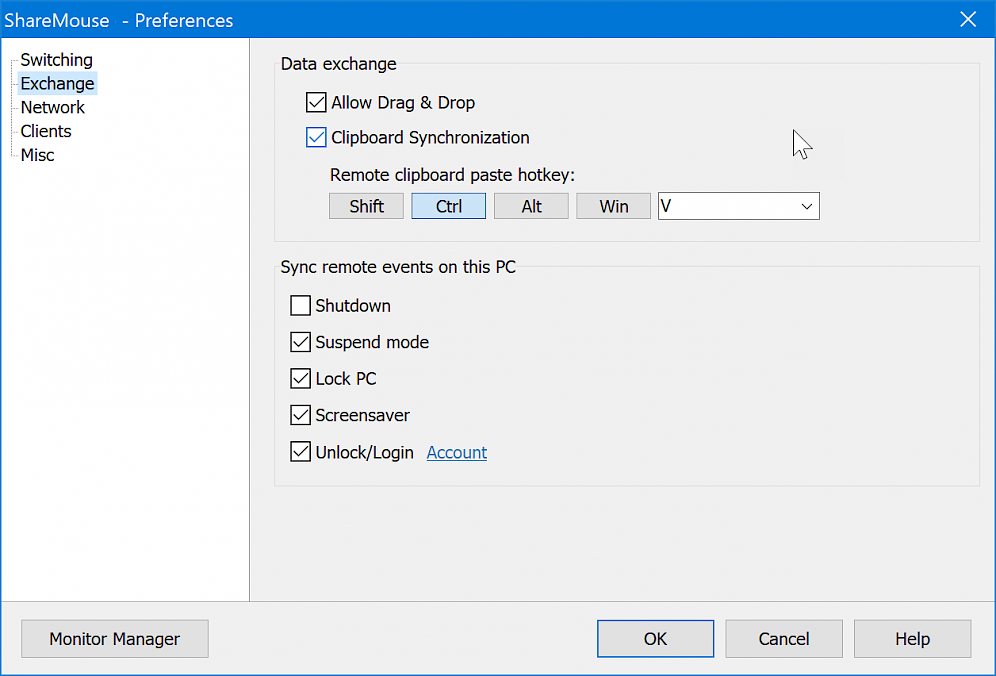 What appears to be smooth and easy in the video required a lot of research to allow ShareMouse controlling secured pre-login system areas on Mac and Windows.
Applications
Lock any computer and ShareMouse automatically locks all other computers.
Simultaneously log onto your Macs and Windows PCs.
Shut down all computers with a single action.
Log onto a Windows PC remotely even after a cold start or power cycle!
Cross-Platform Clipboard Exchange
The clipboard sharing feature now supports RTF formatted text between Mac and Windows PCs. You can now copy formatted text into the Windows clipboard and paste the text including formatting on a Mac (and vice versa).
Clipboard transfer between Windows or between Mac even supports bitmaps within the formatted text.
Design Refresh

The menu bar icon has been redesigned from ground up:
Optimized for high DPI displays ("Retina")
Distinctive styles for Windows 10 and macOS
Enhanced status information
Additional New Features
Optional monitor switch prevention in maximized applications.
Switch prevention override by double-tapping monitor border.
Optionally inverted scroll direction on remote PC.
AES encryption now included in Standard Edition.
Password protection now automatically enables encryption.