ShareMouse Shop
Click any feature description to learn more and select the desired product variation:
Happiness Guarantee
Try everything with the free trial and buy only if you like what you see.
We want your confidence first, not your money!
Instant delivery
We email your license right after payment. No need to install new software. You can continue with your current installation.
Secure purchase
Security is our top priority.
Your contractual partner is the leading ecommerce vendor Digital River.
Licensing information
The purchase is a single one-time payment and no subscription.
Licenses are valid lifetime and include the 12 months of maintenance (updates, upgrades and major new versions) without additional cost. Successive maintenance renewals are optional and available with up to 30% discount.
One license is required for each set of computers per workplace. Example: A workplace with 5 computers requires one Pro Edition license which is registered on one of the computers. This licensed computer may roam for use with multiple different work places. Three users, each using their own set of up to 9 computers each, would need three Pro Edition licenses.
The Standard Edition supports two computers and a total of four displays (more info).
Test the free demo with all features before purchase. To keep the license price reasonable, technical support does not include analysis and troubleshooting individual system configurations due to the general complexity of cross-platform network environments. We do not have a refund policy. Confidence first, not money.
ShareMouse requires an online connection for the short time of the license authorization.
First Aid
Which product edition do I need?
The feature matrix on the shop page illustrates which feature is included in which edition. If you click a feature title, you get additional info about each feature.
What is included in the purchase?
Your purchase includes the right to use the software, as well as updates and upgrades, which we publish within the maintenance period.
A special feature of our offer is that maintenance also includes all new major versions with new functions.
Is the license a subscription?
No, the software is no subscription but a single purchase with a one-time payment. There is not recurring payment.
How are displays counted?
This page illustrates, how displays are counted for ShareMouse:
This is a computer with one single display:
Note: The integrated laptop display counts as a display.
The Standard Edition is fine for two computers with a maximum total of four display. Any other setup would require the Pro Edition.
This is a computer with two displays:
This is a laptop with one integrated display plus an additional monitor (aka "display") connected to that laptop.
Important notes:
Below list is obvious for most, but our experience showed that it is not clear to everyone:
Above example doesn't show one but two displays because the internal display of the laptop is also counts as a display.
A display is counted, even if you do not or only occasionally look at it.
A display is counted, even if a laptop lid is closed (as it is still connected and reported to the OS).
A display is counted, even if you "don't use it for ShareMouse". ShareMouse does not know if you really don't use it or if you just claim not using it.
A display is counted, even if you never or rarely move the mouse to it.
A display is counted, even if you plug it in for "just a short time".
A display is counted, even if you disable any displays while it is still detected by the operating system. You can review the number of displays detected by ShareMouse in the Display Properties.
A Virtual Reality display device (such as Oculus Rift) counts as a display.
An iPad used as a display for your computer (e.g. macOS "sidecar" feature) counts as a display.
A display still counts as a display, even if we may use the alternative term "monitor" or "screen".
A display is counted, even if you "don't know, why it is connected anyway". Yes, Rob.
A display is counted, if it is connected to a computer but not currently used for that computer (e.g. if you have a monitor switch, that can switch a single monitor for use with multiple computers or if a display has multiple hardware inputs). If the operating system recognizes such display, ShareMouse also recognizes and counts it as a separate display for each computer.
This is a computer with three displays:
This example shows a laptop with one built-in display plus two connected external monitors.
The result is three monitors. One Laptop, one monitor and another monitor equals 3 (three) displays. Such configuration would require the Pro Edition as more than two display are connected to one PC.
Are licenses valid life-time?
Yes, licenses are valid life-time for all software versions which are released during your maintenance term.
Make sure to keep a local backup of your software installation file as we do not maintain a repository of older software versions.
Only maintenance (free updates, upgrades and new versions) expire after the end of the selected maintenance term, but you can continue to use your existing installation without expiration.
Do you entertain a refund policy?
No, a "money-back guarantee" means, that you first have to pay, then you may find out, that the product does not meet your expectations and you would have to claim your money back. We offer you a more comfortable approach:
We don't want your money first - We want your confidence first!
You can extensively try out our software free-of-charge before you need to make a purchase decision.
Our demo software which is available in the download allows you to test everything. We don't urge you to buy! Please test the software for suitability and compatibility with your individual system environment. Only buy if you are happy. After purchase, you turn the demo version into a fully featured version by entering the license key.
Can a license be transferred?
Yes, you can release a license association from a user, a computer or a USB stick at any time to use it on another device (or for another user).
Is the online shop safe?
Yes, buying from the online store is safe.
Our online shop is operated by one of the world's largest online shop operators, Digital River, which operates shops for Samsung, Microsoft, Lenovo and many more.
The key symbol in the address bar of your browser during the purchase procedure makes sure that your personal data will be securely encrypted during tramsmission: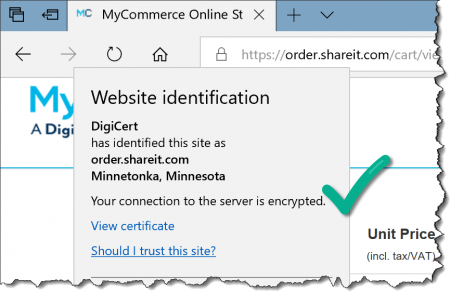 Is maintenance included in the license?
Yes, a license always includes maintenance for the selected maintenance term.
This ensures that you can always use the latest software. You cannot purchase a license without maintenance.
If maintenance is expired for your license, you can renew maintenance at discount.
When does the maintenance term start?
The maintenance term starts with the month of license key delivery.
License keys are dynamically generated at the time of purchase. The end of maintenance is branded into the license key and can be read that out from the first set of 4-digits, e.g. "0421" means April, 2021.