First Aid
ShareMouse only works to a limited extent with screens shared with multiple computers. Please test the free demo version first to check if ShareMouse works for you with such special configuration.
Most multi-input displays pretend that each of the connected computers is activated, even if only one of the computers is actually displayed.
In order to change the mouse pointer between the computers, the pointer must first pass the invisible part of the desktop to appear on the neighbouring computer.
Background: The display input channel selector monitor is a display setting, not a setting of the operating system and the monitor does not communicate such setting to ShareMouse. Therefore, applications running on the operating system, such as ShareMouse, cannot be made aware of which computer the monitor is currently displaying.
Workaround: Use the Quickjump hotkey to switch between computers. Keep in mind, that the monitor letter is hidden for the computer currently not shown on the shared monitor. The mouse pointer may need to pass hidden parts of your desktop in case the computer "believes" the shared monitor is connected and active while it is actually showing the other computer.
Do you entertain a refund policy?
A money-back guarantee means, that you first have to pay, then you may find out, that the product does not meet your expectations and you would have to claim your money back.
We don't want your money first - We want your confidence first!
You can extensively try out our software free of charge to make a confident purchase decision.
We don't urge you to buy. Please test all offered functions and take the time you need to test everything for suitability and compatibility with your individual system environment. That is why we do not have a refund policy.
Where can I find my license key?
If you cannot retrieve the license key delivery mail coming from "ShareIt/DigitalRiver" from your email inbox:
Visit our ecommerce reseller webpage.
Adjust the web page language in the upper left, if necessary.
Click the button "My Account" and log into your account.
There you should find your license key information.
If you lost the login information as well, click the "Request Login/Password" link below the user/password input boxes.
What happens after the end of maintenance?
Your software installation will continue to work. However, your license key no longer works for security-critical security updates and we recommend to renew the maintenance. Returning customers get discount.
What does the "Secure Input" notification mean?
The macOS system function "Secure Input" protects sensitive text input (such as password input) from being spied out by malicious programs.
This feature is activated by the program, that receives the text input and it has to be disabled by the same program after data entry. For example, the Safari browser is enabling "Secure Input" in password input fields.
Unfortunately, some applications do not to seem to release "Secure Input" rendering any subsequent text input invisible for 3rd party apps, including ShareMouse.
This not an error in ShareMouse and ShareMouse has no way to remotely disable "Secure Input". If this would be possible, also malware would make use of such remote disabling, making the security feature "Secure Input" obsolete.
Work around: Disable "auto-submit" feature of any auto-login feature and/or close and restart the application, that caused the interference.
High CPU load
We have found out, that a macOS system task seem to hang if ShareMouse launches a system program required to check for issues created by the macOS feature "Secure Input".
Work around: If you experience high CPU load, disable option "Secure Input warning" under "Settings » Keys".
Is the online shop safe?
Yes, buying from the online store is safe.
Our online shop is operated by one of the world's largest online shop operators, Digital River, which operates shops for Samsung, Microsoft, Lenovo and many more.
The key symbol in the address bar of your browser during the purchase procedure makes sure that your personal data will be securely encrypted during tramsmission: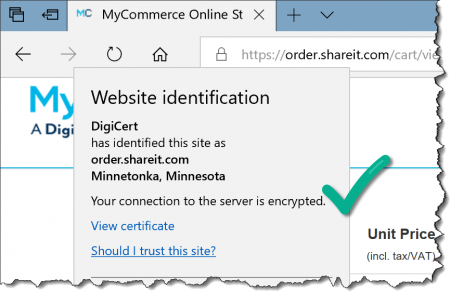 Settings are not being saved on macOS Catalina
macOS 10.15 "Catalina" requires manual user confirmation to allow ShareMouse saving data onto the hard disk. Please double-check the installation instructions and make sure that all authorizations are configured for ShareMouse in macOS security settings.
What is included in the purchase?
Your purchase includes the right to use the software, as well as updates and upgrades, which we publish within the maintenance period you have chosen.
A special feature of our offer is that it also includes all new major versions with new functions.
Is maintenance included in the license?
Yes, a license always includes maintenance for the selected term of one, three or five years.
This ensures that you can always use the latest software. You cannot purchase a license without maintenance.
However, if maintenance is expired for your license, you can renew maintenance at discount.