First Aid
Do you entertain a refund policy?
A money-back guarantee means, that you first have to pay, then you may find out, that the product does not meet your expectations and you would have to claim your money back.
We don't want your money first - We want your confidence first!
You can extensively try out our software free-of-charge before you need to make a purchase decision.
Our demo software which is available in the download allows you to test everything. We don't urge you to buy! Please test the software for suitability and compatibility with your individual system environment.
There is no mouse cursor on Windows
Please check the product documentation with solutions to restore the mouse pointer on Windows.
ShareMouse v6 supports displays that are shared with multiple computers.
Please test the free demo version first to check if ShareMouse works for you with such special configuration.
Mac only: ShareMouse doesn't work or crashes
if ShareMouse doesn't work at all, shows the spinning rainbow wheel (busy indicator) or even crashes all the time, macOS security & privacy settings may block ShareMouse.
Solution: Re-Add ShareMouse in the macOS security settings as described in chapter "Installation".
Important: Apple seem to have decided that you must reconfirm these security settings after each ShareMouse update. Unfortunately, it seems that there is nothing we can do about this inconvenience.
Can I have a discount?
Yes, we offer discounts for volume purchases: The discount is shown in the shopping cart after you enter the desired quantity. Prices can be reviewed before We do not grant discounts for individuals on request as it would be unfair to all customers paying the regular price. We rather try to meet different budgets by offering different product versions with different feature sets.
We believe that providing individual discounts would be unfair to all users paying the full price. For example, imagine a customer who has been a loyal customer of a retail store for several years, regularly purchasing items at full price. If that customer were to see another customer receive a discount on the same item they just purchased, they may feel resentful and question why they were not given the same discount. This can lead to a loss of customer loyalty and trust in the business.
But you can easily earn the entire license price easily by recommending to others what you like. Please visit our affiliate page for details.
Additionally, we offer freeware versions for a selection of our products.
If you believe we do not meet the right price point, please consider that we do not compete on price but on quality and features. There are other options but this is the route we are going with success to the benefit of our customers for more than 20 years – "Price is what you pay. Value is what you get."
The discount coupon feature in the shopping cart is used custom orders, only.
Is the online shop safe?
Yes, buying from the online store is safe.
Our online shop is operated by one of the world's largest online shop operators, Digital River, which operates shops for Samsung, Microsoft, Lenovo and many more.
The key symbol in the address bar of your browser during the purchase procedure makes sure that your personal data will be securely encrypted during tramsmission: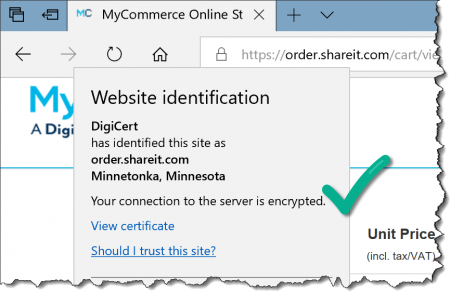 What does the "Secure Input" notification mean?
The macOS system function "Secure Input" protects sensitive text input (such as password input) from being spied out by malicious programs.
This feature is activated by the program, that receives the text input and it has to be disabled by the same program after data entry. For example, the Safari browser is enabling "Secure Input" in password input fields.
To review, which application is using "Secure Input", open the Terminal App and enter the command "ioreg -l -w 0 | grep SecureInput" (without ""), followed by ENTER.
Unfortunately, some applications do not to seem to release "Secure Input" rendering any subsequent text input invisible for 3rd party apps, including ShareMouse.
This not an error in ShareMouse and ShareMouse has no way to remotely disable "Secure Input". If this would be possible, also malware would make use of such remote disabling, making the security feature "Secure Input" obsolete.
Work around: Disable "auto-submit" feature of any auto-login feature and/or close and restart the application, that caused the interference.
What is included in the purchase?
Your purchase includes the right to use the software, as well as updates and upgrades, which we publish within the maintenance period.
A special feature of our offer is that maintenance also includes all new major versions with new functions.
Settings are not being saved on a Mac
macOS introduced a manual user confirmation to allow ShareMouse saving data onto the hard disk. Please double-check the installation instructions and make sure that all authorizations are configured for ShareMouse in macOS security settings.
Is maintenance included in the license?
Yes, a license always includes maintenance for the selected maintenance term.
This ensures that you can always use the latest software. You cannot purchase a license without maintenance.
If maintenance is expired for your license, you can renew maintenance at discount.