Exchange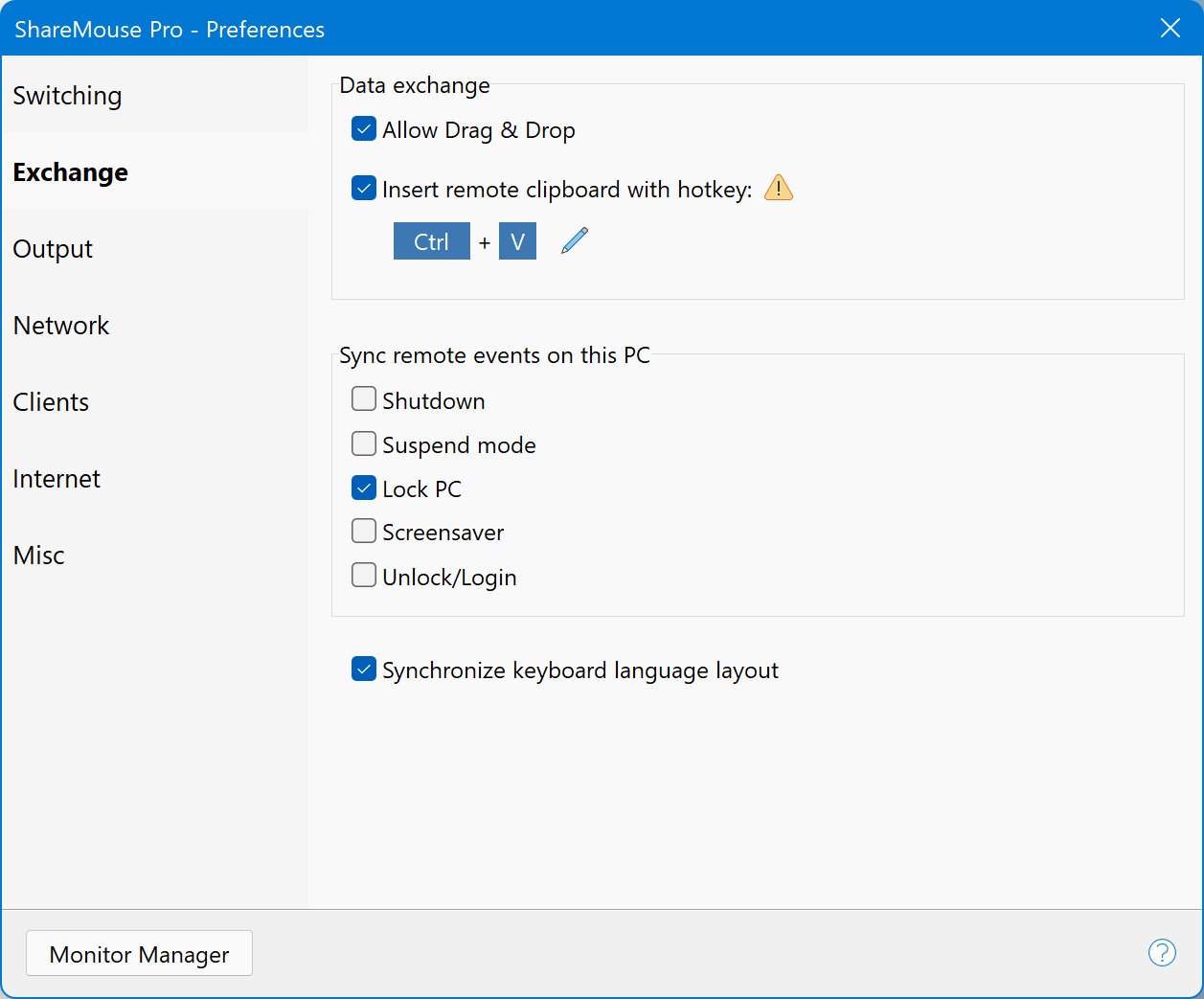 Under Settings » Exchange you can enable the file drag & drop and clipboard synchronization feature and configure the hotkey to paste the contents of a remote computer's clipboard.
We recommend to use the hotkey CTRL+SHIFT+V. This allows you to decide case-by-case whether to paste the local computers clipboard contents (with the system hotkey CTRL+V) or to paste the remote clipboard contents by adding the SHIFT-key.
Synchronization
ShareMouse can sync several events on all connected computers as configured under "Settings » Exchange » Synchronization".
Shutdown
Option Settings » Exchange » Shut down shuts down the local computer automatically after a security notification countdown, if any other connected computer was shut down.
Unfortunately, macOS sends the same internal signal for user logout and shutting down a Mac. All computers will shut down, even if you just log out from another Mac. Use the shutdown synchronization feature with care if you log out from a Mac.
Latest Windows 10 updates seem to follow implementing the awkward macOS behavior. Windows now also does not send a shutdown signal anymore. We have to figure out whether this is a Windows bug or an intentional design change.
Suspend
If option "Suspend" is enabled under Settings » Exchange, the local computer is suspended after a security notification countdown, if any of the connected computers enters suspend mode.
Suspended computers must be wake up with local input devices.
Lock
If option "Lock" is enabled under Settings » Exchange, the local computer locks after a security notification countdown, if any other computer enters lock screen.
Windows PC can be locked with the system hotkey WIN+L. On a Mac, click the user name in the menu bar and select menu option "Login window".
During ShareMouse installation on a Windows PC, the default option "Remote login" must have kept been enabled. Repeat the installation procedure if you opted this setting out accidentally.
This option is not available, if ShareMouse is used in portable mode.
Screen saver
If option "Screen saver" is enabled under Settings » Exchange, the screen saver of the local computer is activated if the screen saver activates on any other computer.
The Mac screen can optionally be configured to enable a custom log in dialog which, unfortunately, is not supported by the ShareMouse auto-login feature.
Login/unlock
If option "Unlock/Login" is enabled under Settings » Exchange, ShareMouse automatically unlocks/logs into the local computer with the configured user account information, if you log in on any other ShareMouse connected computer.
This feature is not available in portable mode and not available in macOS 10.14 (or later).
Any ShareMouse connected user can unlock your computer without entering a password. ShareMouse stores the user login credentials with AES encryption.
Do not use this feature in security critical environments!
Make sure to configure password protection in ShareMouse to restrict the clients who can connect.
On a Mac, we strongly recommend to enable "Remote Login" (SSH access) in macOS System Preferences » Sharing » Enable "Remote Login" to prevent permanently locking yourself out from the Mac in case of malfunction.