Layout Profiles
ShareMouse can store different display layouts in case you use the same set of computers and displays in different arrangements or if you use a shared display in your setup that has multiple computers connected to different hardware inputs.
Creating layouts
ShareMouse automatically creates one layout for your setup. You can arrange the displays as needed. If you wish to store a varying setup with different display positions, you can switch between, you would need to create a new layout first.
To create a new layout:
Open the Monitor Manager.
Click the gear icon in the upper right.
Click the "
" icon.
Enter a meaningful name in the layout drop-down box.
Move the display icons to match the physical display arrangement.
Switching between layouts
To switch to a layout:
Select the desired layout from the ShareMouse tray icon menu: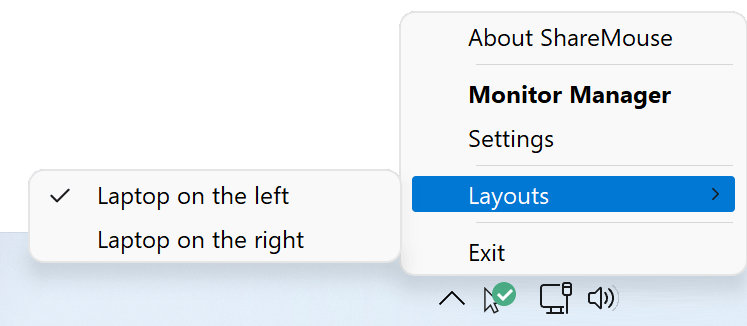 Alternatively, press the layout switch hotkey which can be defined in the settings.
Deleting layouts
To delete a layout:
Open the Monitor Manager.
Click the gear icon.
Select the layout you wish to delete.
Click the recycly bin icon.
Deleting a layout is not critical as you can create a new layout with a press of a button.